Important Notice - Cargo Sailings November - updated 24th October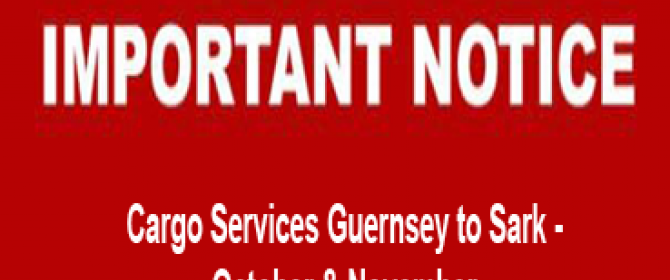 Important Notice
Cargo sailings October & November
Cargo Sailings Guernsey – Sark
In order to facilitate the passage of persons travelling from Guernsey to Sark who are required to self-isolate on arrival in Sark passenger reservations on the Cargo service will be restricted.
The passenger space on the vessel will be held for "self-isolating" passengers up to 96 hours prior to the scheduled departure date/time after which, if no "self-isolating" passengers are booked to travel, the sailing will be opened up to the general public for reservations. All reservations must be by telephone to the Sark Shipping office (01481 724059)
The procedure and requirements for persons wishing to book on these sailings is available from the Sark Shipping Offices and can be downloaded from the web site.
Cargo Sailings Sark – Guernsey 
The Sark to Guernsey leg of the journey will be open for bookings, however, in order to connect with incoming flights (if required) the scheduled departure times may vary and will only be confirmed within 96 hours of the scheduled departure date/time. All reservations must be by telephone to the Sark Shipping office (01481 724059)
For  contacts and details on the booking process for persons travelling Guernsey Sark and needing to self isolate please click here