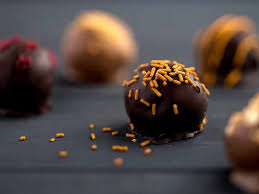 Caragh's Chocolates   Tel: 01481 832703
Caragh's Chocolates sells a wide range of hand-made chocolates such as ganaches, truffles, pralines and manons. You won't be able to resist the rich fresh local Sark Cream combined with the purest, most delicious chocolate. Caragh Chocolates is one of Sark's secret luxuries.
The chocolates are produced in a small quaint chocolate factory located before La Coupee in a traditional stone house where you can see the chocolates being made using fresh Sark Cream. You will be able to purchase them in the small shop, while enjoying a tea or coffee in the tea garden also located at the chocolate factory.